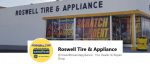 Description
Roswell Tire & Appliance is a one-stop-shop for all your Tire and Appliance needs. (575) 622-4400
Located at 1st and Main, Roswell Tire and Appliance has been a fixture on Main Street Roswell for decades. The new owner is excited to continue the legacy his predecessors have established in the community and with RTA's loyal customers.
RTA has a unique selection of GE Scratch and Dent appliances; one not found in at least a 200-mile radius of Roswell. We also stock new inventory in brands such as GE, HotPoint, SpeedQueen, and Frigidaire.
We also offer a variety of vehicle services such as oil changes, brake jobs, exhaust, alignment, shocks and struts, and A/C service. We are proud to stand behind our mechanics who take pride in ensuring the safety and longevity of your vehicle.
Send Message to listing owner